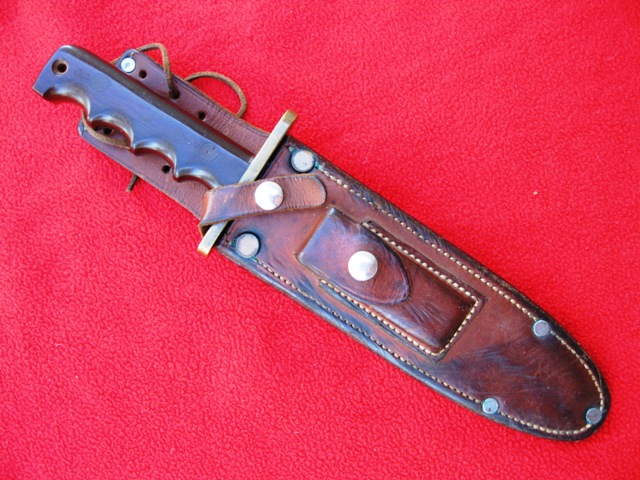 May 18, 2013 admin
Owen Perron spent some time as an advisor early in the Viet Nam war. He carried a brown micarta model 14 with filled screw holes. This is a very rare knife in it's own right, but the provenance hits it out of the park and is one of the most heavily provenanced Randalls I have come across. The photos with this group show Mr. Perron "in country", with his ARVN countepart, prisoners, captured weapons, hooches, etc.
In Mr. Perron's own words:

Owen F. Perron
Military Service Synopsis
Background: ROTC University of San Francisco 1959-1963
Commission 2nd Lieutenant
US Army Artillery School Ft. Sill, OK 1963
US Army Airborne School Ft. Benning, GA 1963
(Graduated 11-22-63 date of J. F. Kennedy assassination)
Third Infantry Division 3/76th Artillery 155mm self propelled Germany
Battalion Assistant Executive and Executive Officer of A Battery
1st Lieutenant February 196
Vietnam – Volunteered 1965
Special Warfare School Ft. Bragg, North Carolina July 1965
At this time, I purchased Model 14 knife by phone from Randall. I tried to purchase their survival knife but they were back ordered.
Army Language School in Monterey, CA – Vietnamese September-October 1965
In November 1965 I arrived in Saigon. At the airport I saw a lot of coffins stacked up, from the 1st Air Cav 2/7th which had been ambushed in the Ia Drang Valley, and I realized things were getting pretty serious. I was processed through MACV and was sent to the 9th ARVN Division headquarters in Sadec in the delta region. I was assigned to the 1/91st artillery as an assistant advisor and ultimately became the advisor.
The mission of the 1/91 Artillery was both static and mobile. 2 to 3 guns were deployed in various locations to protect the Vietnamese villages. Then, depending where the operations took place, perhaps a battery or two were pulled out of the villages and towns for 2-3 day operations. Our operations were brief but frequent. I traveled by both jeep and helicopter. As an assistant advisor I spent a lot of time in Tra Vinh, 3-4 months. For the last 4 months I was the battalion advisor stationed in Sadec.
At the beginning of my tour the knife pretty much accompanied me everywhere, especially if I was on the ground with patrols and forward observers. As I pent more time in helicopters, (Huey D models and CH 47s) the knife was a less frequent companion due to its size and weight. At the end of my tour, November 1966, the Mekong River flooded at record levels and the 9th ARVN division Commander decided to evacuate the artillery pieces form the Cambodian border (1/92 Battalion).
I was the only person with experience in that type of mission so I was sent to take care of it. Air America helicopters took me into the area. I had no cooperation from the Special Forces because they did not want the guns (155 Howitzers) evacuated. I rigged them and they were lifted out by CH 47s. On the last gun out I hooked it, stood on top of it, and the crew pulled me up through and opening in the floor as the CH 47 hovered. The knife accompanied me on this, my last significant mission.
Signed: Owen F. Perron and dated.
The knife is in excellent condition for a carried piece, with the 01 blade exhibiting an old cold blue job applied by Mr. Perron while in Viet Ham. It has a nice patina and evidence of only light sharpening.The brown micarta handle is sound and has the classic color and pattern we expect to see in this model. The two bolts are covered in a mixture of brown micarta dust and epoxy. The brass hilt is typical of the day.
The "double filled screw hole" knives are extremely rare. They were only made for a short time in the early 60's. I cover this time frame in a previous article found in "The Randall Collector" archives on the site. To find a Randall of this caliber directly from the original owner with this type of provenance is simply as good as it gets.
**Note: The numerous photos and emphemera that are pictured with this article are not the total Mr. Perron was able to provide. With the limit of space, I chose some things of interest to the reader.